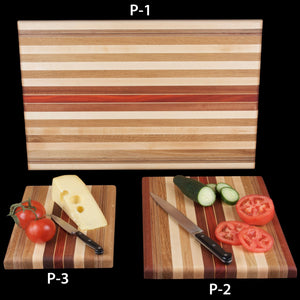 This artistically crafted cutting board set was created to suit a variety of slicing, baking, chopping and serving needs. Each is designed from hardwoods with distinctive patterns that bring out the beauty, color, grain and richness of the wood. The laminated hardwoods create stable working surfaces. Sturdy feet beneath the boards keep the boards from rocking and make lifting easy. The elegant designs complement any table setting. These make thoughtful gifts for weddings, anniversaries and housewarmings. All of these cutting boards are finished with mineral oil.
P1 – Striped Cutting Board
24" x 16" ($140.00)
The ample size gives you room to work. This is perfect for kneading bread, rolling pastry and slicing.
P2 – Striped Cutting Board
12" x 15" ($75.00)
This versatile board accommodates all of your slicing needs.
P3 – Striped Cutting Board
9" x 12" ($50.00)
Perfect for vegetables, fruit and cheese.